Celtic Connections 2024 programme grows with seminal Bothy Band performance planned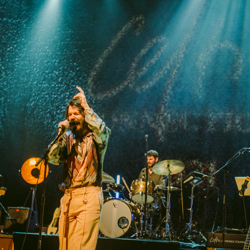 Europe's premier folk, roots and world music festival, Celtic Connections, is continuing to grow its programme for 2024 with 40 new acts added to the bill including a very special one-off concert from seminal Irish group, The Bothy Band.
The world-renowned Glasgow festival, which is set to take place from Thursday 18 January to Sunday 4 February 2024, has already announced a host of performances spanning a multitude of genres including acoustic, traditional, indie, Americana, Jazz, blues, orchestral, experimental and more.
The newest additions to the bill include one of the most important traditional bands in history, as well as a revered collection of names and shows which will make up the hundreds of events staged at 25 Glasgow venues over 18 days this winter.
The Bothy Band stand out as the most influential and revered of the many ensembles who revolutionised the playing of traditional music in recent generations. They have not played a major live show in more than 40 years.
During their brief five-year history they blazed like a comet across the firmament of Celtic music. Coming together in October of last year to record a documentary for Irish television, the band members – all legendary figures in Irish music – enjoyed the experience so much that they were open to the long-standing invitation from Celtic Connections to consider a full concert again.
Donal Lunny (bouzouki), Tríona ní Dhomhnaill (keyboards), Matt Molloy (flute), Paddy Keenan (uilleann pipes, low whistle), Paddy Glackin (fiddle) and Kevin Burke (fiddle) will perform at Glasgow Royal Concert Hall on 22 January for what will be their first public concert since 1979. They will be joined by Seán Óg Graham on guitar. Tickets for the show will go on sale at 10am on Thursday 9 November.
Between 1975 and 1979 the band released four albums, all of which are regarded as classics of their type. They gave incendiary live performances driven by a front line of fiddle, pipes and flute and underpinned by the powerhouse rhythm section, which cemented their reputation as perhaps the most innovative and exciting combinations to play traditional music from these islands. Founding member, Mícheál Ó Domhnaill died in 2006 and Tommy Peoples, who played fiddle on the band's first recording, died five years ago.
Donald Shaw, Creative Producer for Celtic Connections, said:
"The Bothy Band were the single most influential act of their time and set a marker down for the exceptional traditional music which followed. To have one of the most beloved bands of all-time accept our long-standing invitation to play Celtic Connections and to see them come together for the first time in four decades, is one of the highlights of my festival career. The band represents the innovation and energy of the tradition and the extraordinary ability music has to connect us, and stay with us for decades. I know fans from far and wide will be flocking to Glasgow for the chance to see them perform once again.
"The Bothy Band are among 40 incredible acts joining the Celtic Connections 2024 bill for what is shaping up to be an unforgettable 18 days and another landmark year in Glasgow's musical and cultural calendar. There's so much to be inspired, excited and moved by, so I would urge people to come and explore the huge wealth of talent we are privileged to showcase this winter."
Bailie Annette Christie, Chair of Glasgow Life, said:
"Celtic Connections always showcases a stellar line-up of international talent, and the fact that this much-loved festival attracts such a high calibre of acts and artists is testament to how renowned it is by musicians worldwide. It also reflects Glasgow's global reputation as a superb destination for music, which our designation as a UNESCO City of Music confirms.
"The latest events announced for Celtic Connections 2024 highlight what an extensive, exciting and eclectic range of exceptional entertainment audiences can look forward to in so many of our wonderful venues at the start of the year. Featuring hundreds of great genre-spanning gigs, and a host of special stand-out performances, the programme promises a wealth of treats for anyone who loves live music – and a truly unforgettable experience."
More than 30 years on from its inaugural festival, the home of spectacular musical showcases and one-off collaborations will once again light up dark winter nights for what will be one of the biggest-ever capacity Celtic Connections held in Glasgow, a UNESCO City of Music.
Other additions to the Celtic Connections 2024 programme include:
Celtic Connections began in 1994 when it offered 66 events at one venue. It has since grown more adventurous, experimental and diverse each year, with an unwavering ambition to showcase the very best traditional folk, roots, Americana, jazz, soul, indie and world music and nurture unique local, national and international cultural partnerships.
Audiences of around 110,000 are expected to attend the 2024 edition, with artists from around the globe, from countries including North America, West Africa, India, Australia, Ukraine, Norway, Sweden, France and Ireland, set to play a coveted slot at the premier winter festival.
Festival-goers can also expect the usual mix of screenings, workshops, dementia-friendly concerts, late night sessions and pop-up performances at the Festival Club, as well as a thriving education programme that will benefit thousands of children across Glasgow.
Celtic Connections 2024 will take place from Thursday 18 January to Sunday 4 February. The programme can be viewed in full and tickets purchased at www.celticconnections.com.
Tickets for both The Bothy Band and Roddy Hart's Roaming Roots Revue at the Barrowland Ballroom go on sale at 10am, Thursday 9 November.