Join giant puppet STORM as she makes her way through Glasgow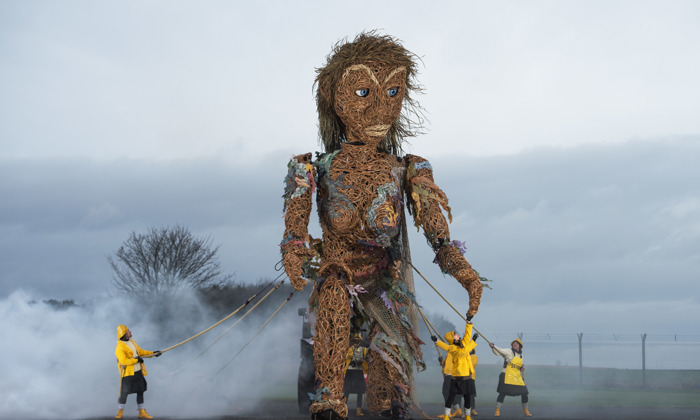 Join us to walk alongside Storm as she slowly makes her way to the Glasgow Royal Concert Hall on Saturday 18 January. Starting at the Clyde-side (near the Clutha Bar), Storm will wend her way through the city centre, through Merchant City to George Square, and on to the Glasgow Royal Concert Hall. View the route map here
Two years in the making, Storm is a new feat of mechanical mastery created by the formidable puppeteering duo Symon Macintyre and Kim Bergsagel. Created by Vision Mechanics in response to the climate crisis, she is a folklore giant made real who will encourage children and audiences alike to celebrate our seas, encourage care for our coastlines and empower us all to put the environment first.

Made from entirely recycled materials, her eyes are the colour of oyster shells, her hair thick strands of kelp, her voice the chorus of the waves. Aided by eight puppeteers, Storm will wake up on the banks of the River Clyde to kick off our inaugural Coastal Connections Day. Storm is also one of the first events to mark Scotland's official year of Coasts and Waters 2020.
Backed by a beautiful soundscape from Scotland's pioneering folk singer Mairi Campbell, Storm will be joined by some surprise performances along the way, culminating in a specially choreographed dance performance by students from Glasgow Kelvin College's Performing Arts Programme.