The Celtic Connections Christmas shopping guide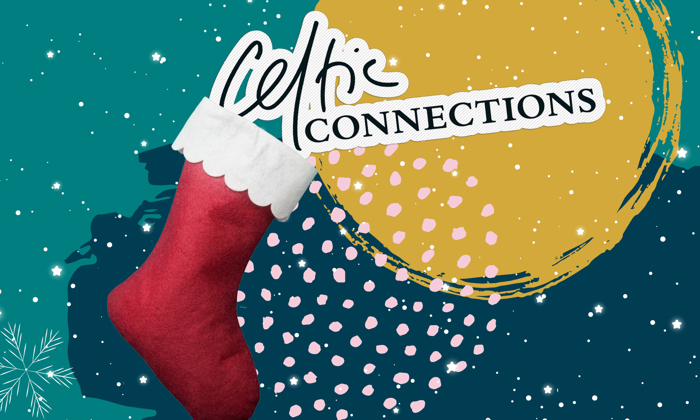 Celtic Connections fills the dark days of January with music and light – and tickets for Europe's premier winter festival make perfect Christmas presents. With more than 300 concerts, ceilidhs and special events scheduled between January 16 and February 2, there's a gig-ticket to gladden everyone's heart on Christmas morning.Tickets are available now, with the full programme available online at celticconnections.com.
And for those seeking inspiration, we've compiled a small selection box of gift ideas: one for each of the 12 days of Christmas.
1. An ocean voyage: Our one-off Coastal Connections mini-festival offers single-ticket access to a packed programme of events celebrating the unique heritage and culture of Scotland's seas and shorelines. With musicians from more than 20 islands, coasts and peninsulas as well as film screenings and other special events, this Glasgow Royal Concert Hall event is one of the festival's top highlights. Tickets cost £25.85 (adult) and £13.20 (child), including booking fee.
MORE>
2. A night on the tiles: Invite your partner to take the floor with tickets for one of Celtic Connections' famous ceilidhs at Maryhill Community Central Halls (£15.40, including booking fee). Alternatively, buy them a seat at The Big Fling: Scottish Dance Band Extravaganza on January 21, where a host of fiddlers, whistlers, accordionists and other top instrumentalists gie it laldy from the Glasgow Royal Concert Hall's main stage. Tickets from £22, including booking fee.
MORE>
3. A drum come true: For anyone who'd love a bash at the bodhran, West-African djembe or samba drum, Celtic Connections offers 90-minute "come and try" sessions that provide a flavour of what the instrument is all about. Similar sessions are available on the ukulele, whistle, clarsach and spoons, along with several singing workshops. Various sessions are on offer, including Women's Samba With Big Groove – which promises to turn a group of wannabe drummers into a samba band in 90 minutes. Tickets £11, including booking fee. (Masterclasses are available for experienced musicians, at various prices.)
MORE>
4. A ray of sunshine: World-renowned Portuguese fado artist Ana Moura's intoxicating live performance at the Glasgow Royal Concert Hall on January 24 is supported by Scotland's Moishe's Bagel, whose audacious melange of klezmer, Balkan, Celtic, jazz, Middle Eastern and classical flavours add to what promises to be an unforgettable Friday night (January 24) at the Glasgow Royal Concert Hall. Tickets from £22, including booking fee.
MORE>
5. An American great: Brooklyn-based singer-songwriter Anais Mitchell addresses big archetypal themes with compelling emotional intimacy and uncanny eloquence, and in 2019, she cemented her reputation with eight Tony awards for her folk opera Hadestown. Featuring Mitchell's new folk supergroup, Bonny Light Horseman, this gig is among the festival's hottest tickets. Gift a pair to someone you'd love to accompany to the Old Fruitmarket on January 29. Tickets from £24.20.
MORE>
6. A shot of African girl power: Les Amazones D'Afrique, the West-African supergroup dedicated to ending women's inequality and oppression, will launch their brand new album, Amazones Power, with a sensational performance at Tramway on January 25. The all-female band's richly melodic sound blends pan-African music with pop and several other genres, and their show includes special guest performances celebrating Glasgow's cultural diversity and traditions. It all adds up to a very special night. Tickets from £18.70, including booking fee.
MORE>
7. Seven (female) pipers piping: In the first-ever cross-cultural piping concert to feature an all-female line-up, Celtic Connections presents A Celebration Of Women In Piping. Limerick-born Uillean piper Louise Mulcahy joins a prestigious array of fellow players from Scotland, Ireland, England and Brittany, on a range of different pipes. A rousing breath of fresh, Celtic air, this event takes place in the Strathclyde Suite of the Glasgow Royal Concert Hall on January 19. Tickets from £16.50, including booking fee.
MORE>
8. Musical memories: Treat your loved one to a dementia-friendly concert in the relaxed surroundings of Glasgow Royal Concert Hall's Strathclyde Suite. Designed to be accessible and enjoyable for people with dementia and their friends and family, these afternoon events are free but ticketed. Choose from January 20's performance by Skye-born singer Catherine Tinney and multi-instrumentalist Calum Morrison, and January 29's show by Ainsley Hamill and Alistair Paterson of Celtic folk band Barluath. Both events feature a variety of Scottish and Gaelic songs and ballads.
MORE>
9. A Burns Night celebration: To the rousing orchestration of the BBC Scottish Symphony Orchestra, Eddi Reader performs her pick of Burns songs as arranged by the late, great Kevin McCrae, along with fellow singers Karen Matheson, Jarlath Henderson and Shona Donaldson. Auld Lang Syne, staged in the Glasgow Royal Concert Hall's main auditorium on January 25, promises a Saturday night feast of musical poetry. Tickets from £24.20, including booking fee.
MORE>
10. An evening of musical mastery: Songwriter, multi-instrumentalist, composer, producer, DJ, Nitin Sawhney is an acclaimed flamenco guitarist and pianist whose ability to transcend cultural barriers has drawn plaudits from the classical and pop communities alike. An audience with Nitin in the relaxed surroundings of Glasgow's Old Fruitmarket on January 28 would make an inspired Christmas gift. Tickets from £26.40, including booking fee.
MORE>
11. A classical treat: Dazzling Kentucky-born violinist Tessa Lark performs the European premiere of Sky, a Grammy-nominated concerto written specially for her by acclaimed US composer Michael Torke. Scottish harpist and multi-instrumentalist Phamie Gow also performs her own award-winning composition, Lammermuir, in a new symphonic collaboration featuring Alasdair Fraser, Mairi Campbell plus special guests. With orchestration from the Royal Scottish National Orchestra, it takes place at the Glasgow Royal Concert Hall on January 30. Tickets from £24.20, including booking fee.
MORE>
12. A Boss-class act: Bruce Springsteen fans will love this year's Roaming Roots Revue: a 70th birthday tribute to the creator of Born To Run, Thunder Road et al. Under the musical direction of Roddy Hart & The Lonesome Fire, an international line-up including Lisa Hannigan, Ryan Bingham, Craig Finn and Karine Polwart perform their favourite Springsteen numbers. The Jan 27 show at the Old Fruitmarket – scheduled after the original, GRCH gig sold out within 48 hours – is one of the festival's hottest tickets, so book now. Tickets from £24, including booking fee.
MORE>